Jay Pattisall, Principal Analyst
In 2021, seven major agency reviews worth over $7 billion went to integrated, centralized global marketing teams. Cigna Health, Coca-Cola, Facebook, Mercedes, Philips, Planet Fitness, and Walmart each ran agency reviews in 2021 resulting in hiring a global marketing company to manage creative, media, digital, and data marketing services. This is a shift in marketers' buying behavior — from rosters of agency specialists toward integrated marketing services — illustrating the CMO's increasing need for connected, orchestrated marketing solutions to deliver the growth and cost-effectiveness the C-suite demands.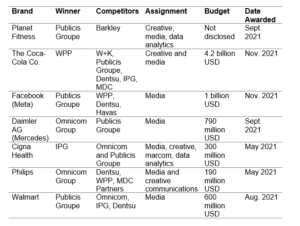 One CMO said, "We believe we can unlock considerable value through a redesign of our model and consolidation of third-party agencies, and while this effort is expected to generate cost savings, this is not the sole objective of this exercise."
Our assessment of global marketing service providers shows that end-to-end marketing services tailored into marketing solutions are now fundamental for global marketers to contend with a volatile, pandemic-weary marketplace. These solutions provide CMOs the ability to:
CMO's and marketers are fully aware of the how convoluted marketing providers and agencies' structures can be. We shed some light in out analysis of nearly two dozen global marketing services companies. In our new report, we demonstrate the convergence of marketing services across agency holding companies and global technology consultancies. We also show how a group of new, digital-focused networks are forming to challenge the market itself. To select the appropriate provider to orchestrate your global marketing needs, consider three questions:
Forrester clients can review the analysis of 16 global providers in Now Tech: Global Marketing Services, Q4 2021, and set up a guidance session to review the results and data gathered.
Stay tuned for updates from the Forrester blogs.
Stay tuned for updates from the Forrester blogs.
source
This post was aggregated from Forrester (https://www.forrester.com).